IMI LICHTENFELD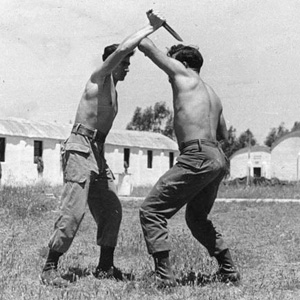 Imi Lichtenfeld, the founder of Krav Maga (practiced by Gabi Noah and Tsahi Shemesh), was born in 1910 in Budapest, which at the time was one of the centers of the Austro-Hungarian Empire. He grew up in Bratislava, the capital of Slovakia, in a home where sports, law, and Central European education were equally respected. Samuel Lichtenfeld, Imi's father, was a unique figure. At age 13 he joined a traveling circus, and for the next twenty years engaged in wrestling, weightlifting, and various strength training. With his father's encouragement, Imi became active in a wide range of sports. He first excelled in swimming, and subsequently in gymnastics, wrestling, and boxing. In 1928, Imi won the Slovakian Youth Wrestling Championship, and in 1929, the adult championship; in the light and middle weight division. That year he also won the national boxing championship and an international gymnastics championship. During the ensuing decade, Imi's athletic activities focused mainly on wrestling, both as a contestant and a trainer.
In the mid-thirties, conditions began to change in Bratislava, Fascist, and anti-Semitic groups appeared, determined to upset the public order and harm the city's Jewish community. Imi became the leader of a group of young Jews, most of them with a background in boxing, wrestling, and weightlifting. This group blocked the anti-semitic bands from entering the Jewish quarter and wreaking havoc there. In 1940 Imi, left his home, family, and friends and boarded the last immigrant ship that succeeded in escaping the Nazis' clutches. The vessel was an old riverboat that carried the refugees from central Europe to the land of Israel.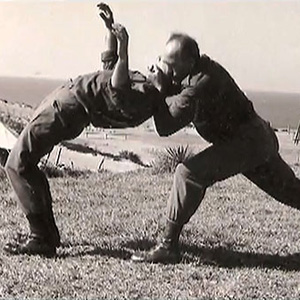 In 1944, Imi began training fighters in his areas of expertise; physical fitness, swimming, wrestling, use of the knife, and defenses against knife attacks. During this period, Imi trained the striking force of the Haganah and forerunner of the special units of the IDF. In 1948, the State of Israel was founded, and Imi became Chief Instructor for Krav Maga and Physical Fitness at the IDF School of Combat Fitness. He served in the IDF for twenty years, during which time he developed and refined his unique method for self-defense and hand-to-hand combat. After he had finished his active duty, Imi began adapting and modifying Krav Maga to civilian needs.
The Krav Maga method was formulated to suit everyone. Anyone who might need it to save his or her life or survive an attack while sustaining minimal harm, whatever the background of the attack; criminal, nationalistic, or other. To disseminate his method, Imi established two training centers, one in Tel Aviv, and the other in Netanya. Imi, a teacher, a fighter and a great human being, passed away on the 9th of January 1998 at the age 87, his successors continue to disseminate his teachings throughout the world.
GABI NOAH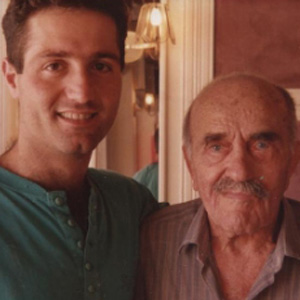 Gabi Noah was born in Syria in 1964. He immigrated to Israel in 1979 and started practicing the Krav Maga method under coach Rafi Algrisi. Two years later, he began to train under Eli Avigezer and Imi Sede-Or; Lichtenfeld, the founders of Krav Maga.
In 1982, he successfully finished the trainer assistant course, certificated by the Krav Maga Union. In 1984, he successfully passed the Krav Maga trainers course, certificated by the Wingate Institute, Israel. He also passed the test to obtain a black belt; Dan 1, which was approved and signed by Imi Sede-Or and Eli Avigezer.
In 1985, Gabi Noah joined the Israeli army (IDF) and graduated the following courses:
Sergeant of combat capacity and a trainer.
Trainer and operator of fitness gym.
Krav Maga coach.
During his military service, he served as a senior coach in courses for Krav Maga trainers and other courses of Krav Maga in the school of combat capacity. In the army, Gabi Noah trained several units, amongst them also elite units such as commando, infantries and special units of the border guards. His primary occupation in the army was to coach military Krav Maga trainers, an occupation which he attained during his reserve service.
In 1988, Gabi completed his duty of service and subsequently opened a Krav-Maga institute in Netanya in which he began to coach. At the same time he was trained by Eyal Yanilov and was considered to be his senior student. During this period Imi Sede-Or also trained him.
In 1995, together with Eyal Yanilov, Avi Moyal, Eli Ben-Ami and with the blessing of Imi Sede-Or, Gabi established the International Federation of Krav Maga.
Gabi Noah is responsible for both the professional and the administrative sectors of the IKMF. He also provides professional support for trainers of the federation in Israel and abroad. He is responsible for several countries such as; France, Belgium, Switzerland, Luxembourg, Liechtenstein, South America and more. Today, Gabi's institute in Netanya is the International Centre of the Krav Maga Federation.
Over the years, Gabi has coached in several institutions such as schools, police units, security units, prisons and so on. He coaches civilians in all age groups; children, women and men. He also coaches fighters and officers in different governmental units in Israel and around the world. Gabi has a master rank from the International Federation of Krav Maga.
TSAHI SHEMESH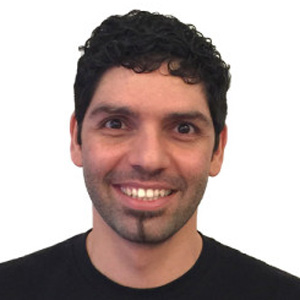 Tsahi began Krav Maga training in Israel at the age of 8 years old. During his three year service in the IDF,Tsahi joined the paratroopers brigade, trained in Dignitary Protection at the Counterterrorism School, underwent a commander's course and served for three years in the West Bank. In 2007, Tsahi successfully graduated the Wingate Institute Instructor Course; Israel's National Center for Education and Sport, and completed the Krav Maga Instructors Course certified by the International Krav Maga Federation. In 2009,Tsahi achieved his Bachelor's Degree in Communications and Management from the Open University. In 2010, Tsahi relocated to the United States and has established the Krav Maga NYC branch of Krav Maga Experts. Tsahi is the Krav Maga Experts Chief Instructor in the United States.
Tsahi (Expert II) trained with hundreds of instructors from numerous countries and partook in the Law Enforcement Instructors Training, VIP Protection Instructors Training and Civilians Instructors Training. Tsahi teaches children in-house and at schools, adults, law enforcement personnel and police officers. Besides IKM's ongoing full-time program, Tsahi and his team also lead various projects; Columbia University, Pace University, NYU, EMTs, NYPD's police officers and contributory workshops to domestic violence organizations. Tsahi is also an Instructor's Trainer in Gabi Noah's official Civilian Instructor Courses (CIC) around the world.
Tsahi's vision is to make Krav Maga accessible to all sectors of society regardless of age, fitness level or professional background because self-empowerment and the right to safety – belong to us all.